Product Description
Each nappy comes as a complete unit - absorbent insert included. The absorber is made from bamboo. Bamboo is ultra absorbent, naturally antibacterial and a sustainable resource.

How to Use ONE-Size Nappies
(with adjustable leg elastic)

Pea Pods have a graduated sizing system to ensure a perfect fit at every stage of baby's development.
1. Adjust nappy to suit baby's age/weight range... the internal leg elastic adjusts like a bra strap! No need to re-adjust until baby grows.
2. Snap bamboo absorber into place with stay-dry panel against baby's skin (can also be used "pocket style").
3. Fit to baby.
NIGHT TIME: Add a Night Booster. This will give Pea Pods an added boost for overnight or extended periods of time for up to 12 hours.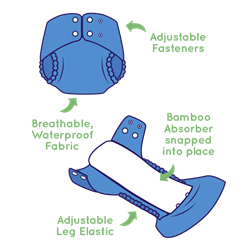 Features:
Bamboo for absorbency - made from super absorbent bamboo, Pea Pods absorbers will provide up to 4 hours protection. Bamboo is also naturally antibacterial and holds well under compression (moisture won't squeeze out when baby sits down - unlike synthetic fibres).
Waterproof outer layer

- made of from high quality PUL (polyurethane laminate) our fabric is custom made to provide a soft, waterproof barrier that is also breathable, so they are cool in summer.

Trim fit - adjustable fasteners, contoured back elastic and shaped leg casing have all been especially designed to create a snug, trim fit meaning not only do Pea Pods look stylish, they allow your baby to wear normal sized clothing over the top without being bulky and uncomfortable.
Easy to wash and dry - Pea Pods are easy to wash and don't require soaking. The materials are stain resistant and a normal machine wash will provide a thorough clean. Because the absorbent insert can be removed, they are also very quick to dry.
Night Boosters - simply add to the regular absorber for up to 12 hours protection overnight. Soft stay-dry lining - microfleece draws moisture away and keeps baby's delicate skin dry (available for separate purchase).
Product Videos
Custom Field
Product Reviews
New to MCN - so happy I switched!

I am absolutely in love with my peapod nappies! We are very new to MCN but am so glad I switched. Peapods has made the transition very easy & efficient. They feel so soft on my little ones bottom & the absorbency has exceeded my expectations. Thankyou peapods for making this a wonderful experience. Highly reccomended.

Gorgeous colours, adjustable and soft. We are using these again for our second child. They have lasted extremely well and saved us a lot of money. We couldn't be happier.